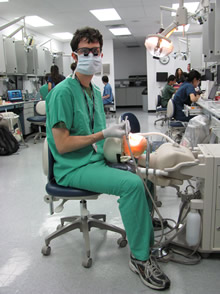 Hey Future Doctors,
My Name is Ben and I'm a dentist. This blog was made to tell my story through dental school.  I was a student at the University of Texas Health Science Center in San Antonio. Yeah, its a big name, and a great school.
I'm loving dentistry and dental school was certainly an experience. I was involved in lots of different dental school organizations. I was on the school leadership committee and was involved with the admission process.  I interviewed prospective dental students. I even had a place on the dental school board of admissions. I have a great idea about what it takes to become a dentist.
I grew up in central Texas in a big family. None of my parents are dentist. In fact, originally I wanted to be a computer programmer. I decided to do my undergraduate at BYU. While I was there I realized I liked computers as a hobby, but I wanted to do something in the health industry to help people.
BYU is a great university for aspiring dentists. There are 4 prep classes to help people become dentists. I took them all. These are the classes I've taken on dental preparation.
Lecture series from local dentist – 1 credit hour
Tooth carving and basic dental knowledge – 2 credit hours
Weekly shadowing program – 2 credit hours
Application help program – 2 credit hours
BYU DAT Prep course – no credits, $200
From these experiences and community service I became certain that I wanted to be a dentist. Then I took the DAT, applied, and got into the San Antonio dental school.
I am really excited about being a dentist, so excited in fact, that I decided to build this website. Becoming a dentist is actually a pretty tricky process so I decided to offer some helpful suggestions.
Please enjoy my articles and tips. Some of these tips are my finest, things that can really help you get into dental school or do well in your interview.
Wishing you the very best.
Ben