So you are still in high school, but you know you want to be a dentist. First thing I would say to you is to make sure you know you want to be a dentist. Read over some of my articles about becoming a dentist and seriously consider it before you make any big decisions. If you know you want to be a dentist, there are things you can do, even in high school to help you prepare to become a dentist.
Shadow a dentist
Shadowing is when you go in and watch a dentist work. Try to get a job working for a dentist or volunteer, even if it is just for a few hours a week. If you suggest this to a dentist, most of them will be willing to let you come in and shadow. This is a great opportunity for you to feel and learn about the environment and learn if it is right for you.
Try to watch what the dentist does. See how he/she gives shots, works with people, fill cavites, etc… Try to imagine if it something you can see yourself doing. If you are lucky, the dentist will show you around his practice and let you see everything. Just get a feel for it and decide if it is something you want to do.
Keep track of the hours you have been shadowing, because when you apply to dental school, they are going to ask you questions about these types of things. Learn a lot about dentistry now, especially while you are in high school. When you actually apply or go for your interview, you will be able to talk about dentistry. This will make you a stronger applicant to the people interviewing you.
Attend a Health High School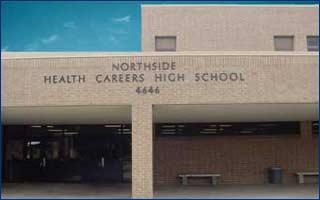 If there is a health high school in your school district, try to get into this school. These offer an excellent exposure to the health profession.
They frequently offer classes like:
Medical Technology
Diagnostic Services
General Patient Care
Medical Administration
Clinical Rotation
Dental Sciences
Scientific Research and Design
Getting in to these high schools usually costs no extra money, but not all school districts have them. Acceptance can be based on merit or the lottery system. Check and see if your school district has a health center high school.
Science and math classes
Take science and math classes in high school. It is great if you can take AP science classes. Take as many science classes as you can, especially chemistry, biology, physics, and even prepare in math. These are classes you need to do well in because they count as part of your science GPA.
When you apply to dental school, your science GPA is weighted more heavily. They particularly look at your general chemistry, organic chemistries, biology, genetics, physics and math. So make sure you do well in those classes by starting to get good at them now.
Also, they are on the DAT admissions test. So if you can prepare for them, if you can start learning and feeling comfortable with these science classes early, then everything will be easy for you the next four to eight years because you are going to continue the classes even in dental school.
Start developing hand skills
Another thing you can do that might help you is to develop your hand skills. Try taking up a musical instrument. That is something people did that they say helps.
Something I have seen help students even more is to become artistic. You don't need to become a great artist to become a dentist, but the people that are great artists in the dental school with me right now, are the best with their hands.
They produce some of the finest work. Take an art class and actually pay attention in it. Try to learn something, get good at drawing with your right or left hand. Get good with modeling or plasters, whatever your art class has. Working with your hands will really help you.
Participate in Community Service
Get involved with community service. This will help you apply to your undergraduate university or college and also your dental school. It will help with your people skills and might give you a better idea about what you want to do.
Look into Early Acceptance Programs
Some dental schools have early acceptance programs. By performing well in high school you can become accepted into one of these programs. Start looking into these programs early, you will need a few credit hours and some planning to apply. San Antonio will only let you apply if you have between 12 and 30 college credit hours. So make sure you look into it early and fit in your schools window.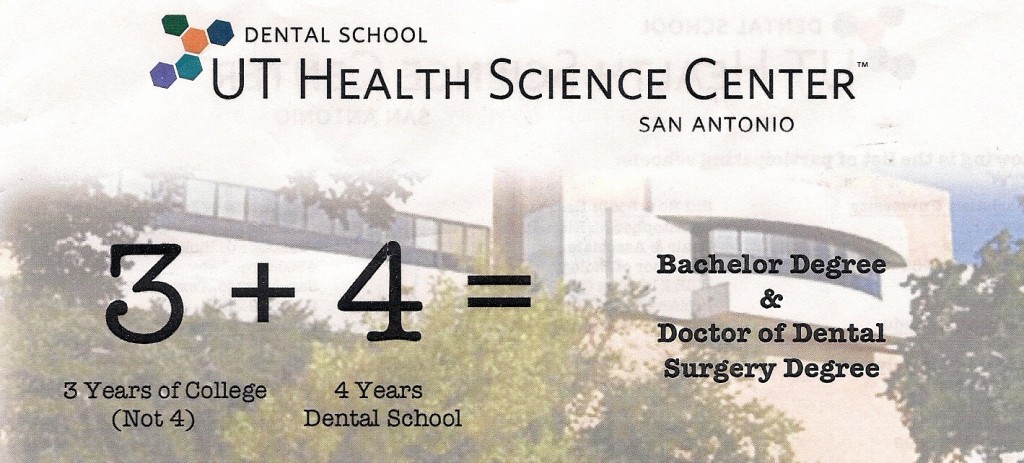 In an early acceptance program you start college knowing that you will finish your college in the dental school. You do the first three years of college at a University participating in the program, and the forth year in dental school.
So instead of eight years you only need seven, and you get a dental degree and a bachelors degree from the dental school. Also, once you are in the program if you meet a minimum GPA requirement  you are guaranteed a seat in the school.
Set Yourself Apart
Make it your goal now to think of anything you can do to set yourself apart from all of the other people applying to dental school. If you can be a good strong applicant to your college or university, then you should be a good strong applicant to dental school. Keep doing those same things.
Comment Below?
We've had a huge response on this topic. I'm very happy to answer your questions, but first please read over this article and become familiar with this website. Most of your questions are probably already answered here.