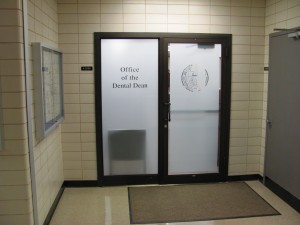 If you are lucky enough to have gotten a dental school interview, here is how you can make sure you ace it. This is the last step to getting into dental school.
As a dental student I've been working with the dental school board of admissions. I've gone to lectures about interviewing future candidates and held interviews with nervous, prospective dental students.
Trust me, your interview will make or break your application. Here are eight techniques you can follow to make sure that you have an excellent interview.
1. Research the school
With the Internet you should easily be able to find your school's website and learn about it. You are not going to be able to learn everything, but you can become familiar with the school and with their mission statement.
In the process of researching the school you can develop good responses to questions such as "Why do you want to come here?" or "What interests you about our school?" Through the use of the Internet you can learn about a school's research, clinic or student organizations.
2. Talk with students and alumni
This is extremely valuable, and you will get a lot more from doing this than searching the school on the Internet. If you don't know of any alumni or students who went to that school, visit your current undergraduate university pre-professional office and see if they can connect you with someone who went from that undergraduate university to the dental school you are looking into.
I have had people contact me because the undergraduate university I attended gave them my email. I was more than happy to talk with them about San Antonio and why it was a great place. I also talked with them about how they could prepare for the interview and about places where they could stay. Talking with current students is really helpful because you can get a  perspective on what the interview process is going to be like. It can also help you gain confidence.
3. Review Studentdoctor.net and read about other students' experiences
Studentdoctor.net is a great forum and I recommend it a lot. On this forum you will find many other dentists who are in the application process. There will be discussions about interviews at schools. Sometimes there are discussions from a year or two ago, but they can still give you an insight into people's interviewing experiences.
You might find interview questions that students were asked or just common advice about how to prepare. You may even see things like, "heads up, they want you to write an essay on ethics." Check out this forum and look up your school and its interviewing process. This is a good way to get information.
4. Practice mock interviews
Get friends, family, professors or anyone you can find to practice interviewing you. Find lists on the Internet of the most common interview questions or have them ask you questions that you found on studentdoctor.net.
Practice answering these questions. If you have ten to twenty good responses you can divert into one of these responses, regardless of the question. Not that you should go into the interview like a robot answering questions with memorized statements. You just don't want to be frozen and not know what to say. The next step, I think, leads really well with this step and that it is to know your application.
5. Know your application
When people ask you questions like 'I see here that you studied this or did research here', you should feel comfortable talking with them. If you applied a few months ago or even a year ago, review your application. Know what you put on there, what grades you received. If a professor, dean or doctor hasn't had a chance to look at your application, which happened at one of my interviews, they are going to say things like "Tell me your DAT scores" or "What was your science GPA?"And if you respond with uncertainty, that is not good. You should be confident and clear when you say these things. Also, know what is on your personal statement.
6. Dress well for the interview
Make sure that when you go into the interview that you dress well. Dress to impress is what I say. All the other students there are going to dress well too, so if you don't do it, it will hurt your interview.
If all of the other guys are clean-shaven and you are looking scruffy, you will stand out as someone who didn't care enough to prepare more for the interview. Make sure your shoes look nice.
7. Be sociable with everyone
Everyone you talk with has the ability to influence your outcome. This could be a secretary or a receptionist, a dean, a professor, your peers, or a fourth year student. I had one professor tell me in a pre-professional class that he would ask the receptionist and secretary how you acted in the waiting room.
Were you fidgety or uncomfortable? Were you anti-social towards the receptionist because you were thinking or focusing mostly on your interview with the dean? Be social with everyone, including the other students who are applying. Who knows, they might be in your class, or they might be reporting on you.
8. Write thank-you letters
Get the names and business cards of everyone you interview with and write them thank-you letters. Writing a nice thank-you letter can't hurt you, but it can help. Write thank-you letters to people who showed you around or to anyone else. If they gave you their contact information, a quick thank-you letter can only help. Here are some suggested websites on writing good thank-you letters.
Overall, try and relax, take a deep breath and have a good conversation. Be yourself because if you fake it, they will know. Be honest and clear. Try not to get too nervous. The school wants you just as much as you want them. Smile.