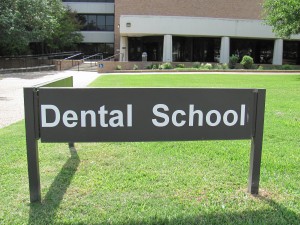 Here is an outline on how you can become a dentist. There are multiple things you need to accomplish and usually you will have a time line to follow to make sure you can get into dental school on time.
Complete your undergraduate education
You must complete a significant amount of required classes in a University or college. These requirements differ between dental schools so make sure you contact your specific school.  Most people finish and get their bachelors degree, but occasionally if you have completed the necessary science classes at about the end of the third year of your undergraduate degree, you can start dental school. Getting in during your 3rd year of undergraduate is considered more challenging, and usually you need better grades. Here are some techniques to prepare for dental school in college.
You want two semesters of physics with two labs, two semesters of general chemistry with two labs, two semesters of organic chemistry with their labs. And then you need usually 8-12 credit hours of biology. Make sure you check the website of the school you want to apply to and do the specific requirements as far as classes.
Get letters of reccomendation
You will need to get letters of reccomendation from science professors before you can apply. Dental schools require these letters and they can make or break your application. Make sure you get to know the professors well before you ask for letters. Here are some techniques for getting great letters.
Take the DAT
Another requirement is to take the DAT- Dental Admissions Test. This is a tough test with sections that include reading, math, basic biology,  general and organic chemistry, and also perceptual ability. I will have other articles to talk more about the DAT, but you will need to make sure you study for it. There are different prep courses you can take, as well as software and books you can buy to help you prepare for this test. I studied for the DAT for a full summer and then took it.
Start applying to dental Schools
After you have completed your college classes or while you are finishing them up and are taking the DAT, you will want to apply to dental schools. This is something most people will do in the first semester in their senior year or earlier. You want to apply early, as early as you possibly can, because the sooner you get your application in, the more likely you are to get an interview.
Schools start picking their students early. And so an early applicant has a better chance of acceptance. Apply early. Apply early. Apply early. You will fill out an application online.  Go there and fill everything out. The state of Texas has their own online application for residents, other schools might as well, so be sure and look into this.
They are going to ask you lots of different questions. You will need to make sure you have been involved in some types of community service. You need to make sure you have shadowed dentists. They will ask you how many hours you have spent shadowing dentists, as well as any awards and achievements. Use these types of things to try to separate yourself from other people when you apply.
Interview with schools
After you have applied, the dental schools will start interviewing people. They will call you in for an interview. You will fly or drive to the dental school.  Make sure you are professional and dress well for you interview. Please make sure and send a thank you letter after interviewing. Here is my full article on how to ace your dental interview.
Acceptance and Entering Dental School
Later in the year they will send you a letter of acceptance. You will write them back, saying that you accepted. Starting in the fall of the next year, you will go to the dental school and start.