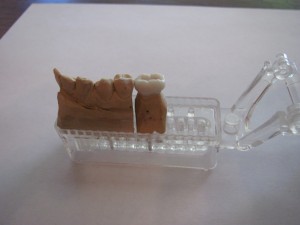 Here are some things I did to prepare for dental school in college:
Take pre-dental classes
I went to Brigham Young University. BYU has a great pre-dental program. A lot of people that go there, go on to become dentists. At BYU I had access to four different pre-dental classes.
I took a class where local dentists would come in and talk with us every week, and we would write papers about what they said.
I took a tooth carving and pre-dental school class where I would carve up teeth and wax. They would teach us basic dental skills like teeth numbering and impressions- very basic stuff that has been helpful since I have been here in dental school.
I also took another dental class where I would go and shadow and work with a dentist for a semester and write about it to get credit.
I took a class where they helped us fill out our application. This class was great because we walked through the application process together and learned ways to improve our personal statement.
These classes really helped me prepare and strengthen my application to dental school. I had a lot of hours shadowing. I had a lot of experience. When I even went in to talk for my interviews, I brought the teeth that I had waxed and showed them to the professor I interviewed with. I think that played a significant roll in my getting accepted so early.
What if my school doesn't offer pre-dental classes?
If your school doesn't have these kinds of programs, you can make your own with whatever time you have. Call some local dentists in the area or your own dentist and see if you can go in and shadow with them. Ask if you can work with them on a volunteer basis. If you work hard, they might hire you in the future. Regardless, you will get the hours you need to show that you are actually passionate about becoming a dentist.
Find out if you are eligible for an early acceptance program
Lots of dental schools have an early acceptance programs with local universities. Start looking into these programs early, you will need to have between a certain credit number to apply. San Antonio will only let you apply if you have between 12 and 30 college credit hours. Make sure you look into it early and fit in your schools window. You can find out more by visiting your college pre-professional office or calling the dental school.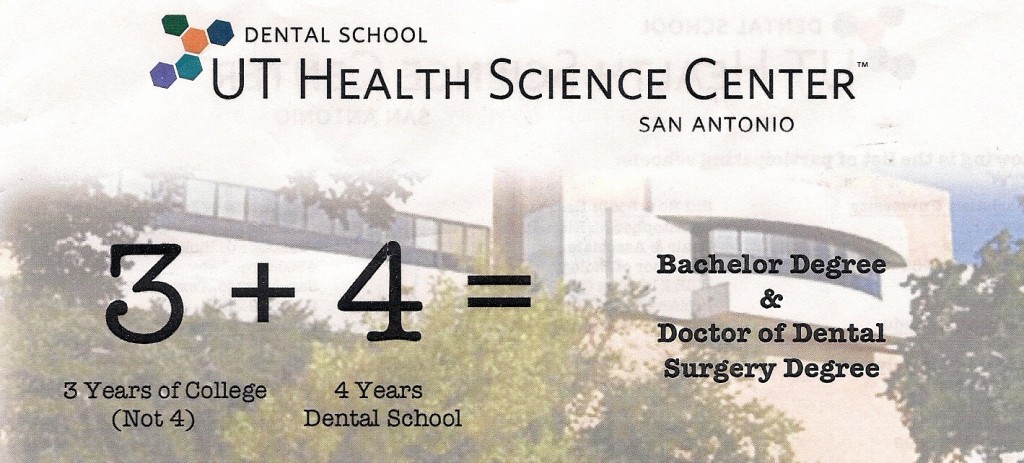 In an early acceptance program you start college knowing that you will finish your college in the dental school. You do the first three years of college at a University participating in the program, and the forth year in dental school.
So instead of eight years you only need seven, and you get a dental degree and a bachelors degree from the dental school. Also, once you are in the program if you meet a minimum GPA requirement  you are guaranteed a seat in the school.
Get Good grades
Another thing you can do is to get really good grades in all of your science classes: biology, chemistry, physics, math, and statistics.. Try to get an A in these classes. Do whatever you can. If the classes are too hard, spread them out over your four year experience.
Use www.ratemyprofessors.com to find the professors with whom you think you will be able to get an A. Talk to other students. Prepare and work as hard as you possibly can, because getting into dental school is becoming more and more competitive. Having a strong GPA will really help you. Plus, if you learn this material, it is going to make taking the DAT easier, and it will also make dental school easier.
Pay attention in your classes
Realize that when you get to dental school, you will be taking biochemistry, pathology, histology etc…. All of these classes build on the principles you learn in your undergraduate. Physiology was a lot easier for me in dental school because I paid attention and learned a lot in my undergraduate physiology class. So do well in your science classes now, and it will make a difference later.
Get letters of recommendation from your strong classes
Also, you are going to need to get letters of recommendation from professors. They require them to be from science professors. So if you are ever doing particularly well in a class, get to know your professor. Go visit them once, twice, three, four times a semester. Make sure they know your name. That way, at the end of the semester when you get an A, you can go to them and ask them for a letter of recommendation. Check out my letter of recommendation techniques.
Set yourself apart
Do different things to set yourself apart. I read an article once about the Superstar Effect. Try to set yourself apart and be the superstar in something. It doesn't necessarily have to be science or dentistry related. Set yourself apart in something people will remember you by. If you can be in the pre-dental club and get a leadership position, great. But it doesn't have to be dentistry related, just try to set yourself apart.
Maybe you can get involved in local politics. That will set you apart. Maybe you can become an expert in a sport. Playing a sport can set you apart. Try and publish something, even if it is art, poetry or fiction writing.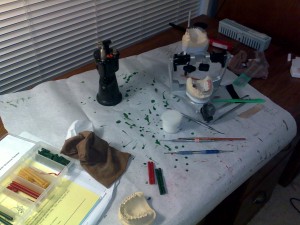 I was always looking for opportunities like that to set myself apart. Leadership organizations can be beneficial. Maybe your college or university has a pre-dental club. Get involved in that. Let the president know that you would like to be involved in a leadership position. It is easier than you think to get on in these clubs. If your university or college doesn't have one, start one. Because then you will be the president and that looks good. If you can be involved in any other clubs, that will help you as well. Doesn't really matter what your hobbies are. Dental school's like hobbies.
I have a friend who had a black belt when he applied to dental school. He says that this was something they talked about during his interview. Another friend was involved with the Boy Scouts of America and was a scout master. He said that for about 15 minutes in his interview, they talked about different things the Cub Scout group had been working on. These are the types of things that are going to make you stand out when you go to dental school.
Go here for more dental interviewing tips.
Pick a major you enjoy
When you are picking your major, I would highly recommend that you pick a major that you enjoy. Even if it means you are going to be working on your undergraduate degree a little bit longer. If you have to take five years, but you get an undergraduate degree in something that you love, and you do all of the science classes on the side so it takes longer, that would be a good decision in my opinion.
Choosing a major you love gives you a degree you can fall back on if you decide dentistry isn't right for you later. Also, choosing a major you love will help you enjoy your time through you undergraduate experience. It could even be something that sets you apart.
Ithink that about 90% of my current class majored in biology or a very-related field. The few people that did business or foreign languages stood out and were easy to remember. Try to at least branch off as much as possible. I studied nutritional science, which had all of the core science classes included in my major, but it helped me to stand out slightly from the large amount of biology majors.
Best of luck with your dental school preparation. Its a long road but it will be worth it. Also, I'm open if you have any better ideas.